A vector logo is a crucial aspect of your brand. Let's explore what it is and why it matters.
Vector logos are two-dimensional graphic files that use mathematical expressions and coordinates to create lines, shapes, and images.
Points are connected using both curved and straight lines to create a shape. Each shape and line can possess various attributes such as stroke thickness, fill color, and color.
This same principle applies to all vector graphics formats, including the typeface you are currently reading. Even when composing an email or document, the fonts used are vector-based.

To better understand this graphic format, let me compare it to the other type of images, bitmaps (also referred to as raster graphics).
Bitmap images vs Vector images.
Bitmaps form images using pixels, with each pixel being a single element of color. The combination of all these pixels creates the image, but as the number of pixels increases, so does the file size.
For example, if you have an image that's 100 x 100 pixels and you need to use it for your social media profile, it needs to be at least 360 x 360 pixels. That's a difference of 260 pixels per side, and when the software tries to create those missing pixels, the image can start to lose its sharpness.
On the other hand, vector graphics are represented by mathematical formulas and numbers, so there's no need to add or subtract information to create smaller or larger images. This means your vector logo won't be affected by the resolution and can be easily scaled, rotated, or moved. That's why it's crucial to have a vector file version of your logo.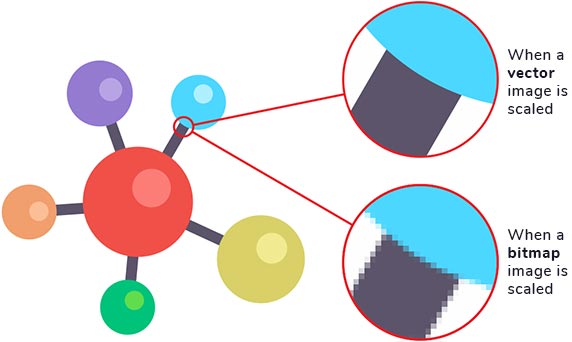 So far, we can understand that having a vector logo allows you to scale it to any size while maintaining its quality. This also gives you the flexibility to use it in any application, from a website to a big billboard.
Another advantage of vector logos is the ease of modifying colors to international standards and adjusting to exact dimensions.
The Vector files formats.
There is plenty of software to create, open, and edit vectors. Some of the most popular ones include Adobe Illustrator and Corel Draw. There are also less known, but helpful and inexpensive or free options available. like Affinity Designer or Inkscape, these options can be more than enough for occasional users who want a helpful and inexpensive or even free solution.
Today, the most widely accepted file format for logos are EPS (Encapsulated Postscript) & SVG (Scalable Vector Graphics).
Vector graphics software can work with any of the accepted logo formats, such as EPS, and many bitmap software can open them, though they may convert them to bitmaps in the process.
If your vector logo is in either .eps or .svg format, you're all set.
Despite the existence of several other formats for vector logos like .AI, .CDR, or even .PDF, it is not as common to use them as the final formats for logos. The most widely accepted standards are .EPS and .SVG.
Additional information regarding vector logos.
Having a vector file format for your logo is a valuable asset as it can be easily converted into various other formats as needed. For example, to upload on your social media platforms, you would require a JPG or PNG file, both of which are bitmap formats. Similarly, if you wish to include your logo in a text document or spreadsheet, you would need to convert it to a suitable format.
Therefore, it is always advisable to have your logo in multiple formats, not only in EPS and not only in JPG.
Summary.
A vector logo provides the benefit of scalability to any size. The vector format enables easy modification, editing, and placement in various applications.
A vector logo file serves as the master file for professional use and can be converted into any other format as needed. The most commonly used formats for vector logos are .eps and .svg.
Vector and bitmap images are distinct, but they complement each other. It's advisable to have your logo in multiple formats to maximize its usability.
I hope this information was helpful. Feel free to share your thoughts in the comments section. Thank you for being here. If you already have a logo and need to convert it to a vector format, we can help you with that. Get your logo vectorized today!

When you recognize that your brand needs to take the next step. Your logo needs a vector master file that can be used anywhere. Vectoryourlogo.com was created to assist you in the conversion of your logo to a professional vector file without having to pay exorbitant designer fees.
Send your logo and take your brand to new heights.
- Mario