A vector logo is a basic and major element of your brand. That's why we need to understand what it is and why it is so important.
Vector logos are files in bi-dimensional graphics format with information of coordinates and math expressions to form lines, shapes, and images.
Points are connected with curved & straight lines to form a shape. Each shape and line can have different properties like stroke thickness, fill, and color.
Any vector graphics format is based on this same principle, even, the typography you're reading right now, also when you type an email or document, these fonts are made with vectors.

To understand better this graphic format, I would like to compare it with the other type of images, bitmaps (also called raster graphics).
Bitmap images vs Vector images.
Bitmaps use pixels to form images, one pixel is one element of color. The ensemble of all those pixels forms an image. The more pixels, the bigger can the image be, but also the heavier the file is.
When you have an image, let's say, 100 x 100 pixels picture, and you need to use it for your social networks profile, it needs to be at least 360 x 360 pixels. You are missing 260 pixels per side; the software needs to invent those pixels, and that's when the image starts losing sharpness.
On the other hand, since vector graphics format is information in math formulas and numbers, it doesn't need more, or less information to create smaller or bigger images. Your vector logo does not depend on resolution, therefore, there is no problem scaling, rotating, or moving it. This is one of the most important reasons why your logo must have a vector file version.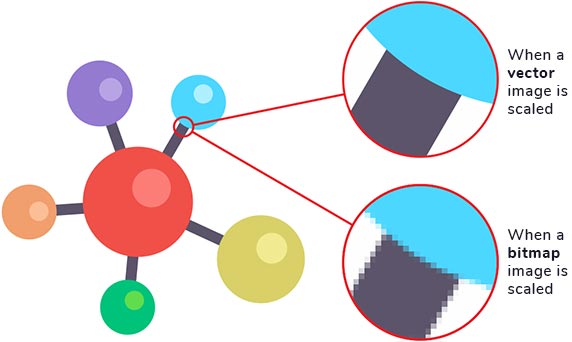 So far, we can understand that having a vector logo allows you to scale it to any size. But also, this gives you great flexibility of using it in any application, from a website to a big billboard, keeping the quality of the shapes.
One more advantage is the easiness to modify colors to international standards and adju0sting to exact dimensions.
The Vector files formats.
There is plenty of software to create, open, and edit vectors. Some of the most popular are Adobe Illustrator and Corel Draw. Others are less known and helpful and inexpensive or free, like Affinity Designer or Inkscape, which can be more than enough for occasional users.
Today's most accepted standards for logos are EPS (Encapsulated Postscript) & SVG (Scalable Vector Graphics).
Vector graphics software can work with any of these formats, and, many bitmap software can open them (but generally converting them to bitmaps).
If you have your vector logo in any of these two formats (.eps or .svg), you are good.
Despite many other formats for vector logos like .AI, .CDR, or even, .PDF, it is not that common to use them as final formats for logos.
Some more words about vector logos.
A vector file format for your logo is a master file that can be converted to many other formats. For example, to upload to your social networks, you will need a JPG or a PNG file, which are bitmaps, and is the same if you want to add your logo to a text document or spreadsheet.
For this reason, it's always a good practice to have your logo in more than one format, not only eps and not only jpg logos.
Summary.
A vector logo gives you the advantage to scale to any size.
Vector logo format has the flexibility to modify, edit, and place almost anywhere.
A vector logo file is a master file to use in any professional way and to convert to any other format.
There are many formats for vector logos, but the most commons are .eps and .svg
Vector images and Bitmaps images are different, but they complement each other. It's good to have your logo in more than one format.
I hope this information was helpful. Leave your comments below, and thanks for being here. If you already have a logo and all you need is to have a vector version, this is the right place, vector your logo!

When you recognize that your brand needs to take the next step. Your logo needs a vector master file that can be used anywhere. Vectoryourlogo.com was created to assist you in the conversion of your logo to a professional vector file without having to pay exorbitant designer fees.
Send your logo and take your brand to new heights.
- Mario